Have you ever found yourself locked out of your Discord account because you have accidentally deleted your 2FA authenticator app and have lost Discord backup codes?
Many Discord users enable two-factor authentication for added security, which requires a 6-digit code from an authenticator app or Discord backup codes every time you log in to your Discord.
But what happens when you lose those Discord backup codes and your 2FA authenticator app is no longer accessible? Don't panic – in this article, we'll explain what you can possibly do to recover access to your account if you've lost your Discord backup codes.
But first, let's quickly understand what Discord backup codes are and why losing them can be an issue.
Understanding Discord backup codes!
You might be wondering what exactly these Discord backup codes are and why losing them can be such an issue.
Well, Discord offers 2-factor authentication as an additional security measure on your accounts. This means you need both, your password and a six-digit code generated through a 2FA authenticator app when logging in.
When 2FA is enabled, Discord provides a list of one-time-use codes that can be used instead of the usual 2FA code. These Discord backup codes can be used if you ever lose access to your 2FA authenticator app or can't receive SMS codes, providing an alternate way to log in to your Discord account.
But the problem arises when these Discord backup codes are lost, or you accidentally delete your 2FA app. Without them, you can't bypass the 2FA, leaving you locked out of your account. This is why it is extremely crucial to store these Discord backup codes safely.
How to recover your Discord Account without Discord backup codes?
Unfortunately, you are completely locked out of your Discord account without a Discord backup code. Even Discord support won't be able to help you directly in this situation, as they do not have access to your lost Discord authentication code.
With that said, we know how stressful this situation can be, but don't worry – there are still a few steps you can take to try and regain access to your account even without the Discord backup codes.
1. Try Logging in from a Trusted Device
If you can't access your 2FA app or don't have Discord backup codes, try checking if you have logged into your Discord account on any device like your phone, tablet, or computer. You may still be logged in on one of these devices.
If so, you can disable the 2FA from there or generate new Discord backup codes for future use. To do this, once you are in your account, navigate to User Settings > My Account > Two-Factor Authentication, then click on the View Discord backup codes button to see your Discord backup codes, or remove it by clicking on the Remove 2FA button.
2. Try SMS Code Instead of Authenticator App
Discord also offers SMS-based authentication as a backup 2FA method where you can receive a 2FA code via text message. If you've set this up, you can request auth code via SMS to log in to your Discord account.
Try logging in to your Discord account with your email and password. Then select the Receive Auth code from SMS option to receive your authentication code on your registered phone number. Enter the code you receive via text message to log back into your account.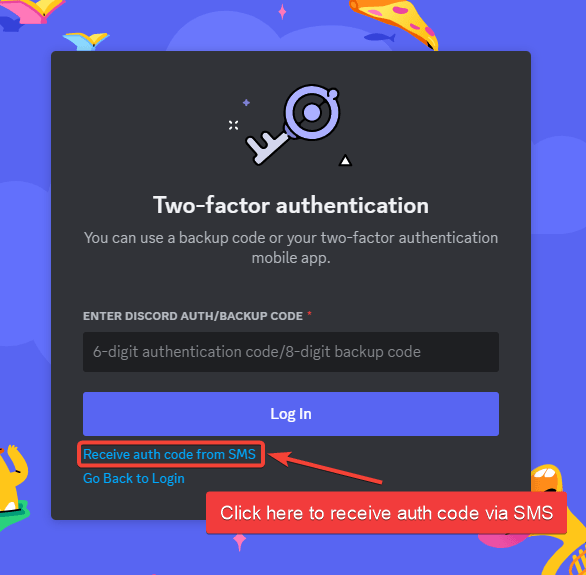 Note that this only works if you have previously enabled SMS authentication on your Discord account and have access to the registered phone number. Also, the Discord mobile app doesn't yet support the SMS authentication method.
3. Try locating the "discord_backup_codes.txt" file!
When you enable 2FA, Discord asks you to securely store your Discord backup codes as a .txt file containing your account's Discord backup codes. If you followed Discord's advice and saved this file somewhere safe, now's the time to search for it.
Look for the discord_backup_codes.txt file in your downloads folder, your documents folder, or any location on your computer where you typically save downloaded files. If you find the file, open it to view your Discord backup codes. Use one of these Discord backup codes to log back into your account.
What to do if you can't find Discord Backup codes and are permanently locked out of your Account?
Let's consider the worst-case scenario – you've tried everything but still can't recover your Discord account.
Unfortunately, in this scenario, you'll have to create a new Discord account. This is because, for privacy and security reasons, Discord doesn't have a way to bypass the 2FA system and access your account without a 2FA code or backup codes.
You can do this by visiting the Discord website, downloading the Discord app, and clicking the Register button. Follow the prompts to create a new account with a different email address.
Remember to set up 2-factor authentication on your Discord account for additional security, and this time, make sure to securely save your Discord backup codes in a safe location. While creating a new account is not the most desirable solution, it ensures you can continue utilizing Discord's features and stay connected with your communities.
Best Practices for Avoiding Losing Discord Backup Codes!
Recovering a locked Discord account is never a pleasant experience, especially if you need to create a new account.
Therefore, to save you from this troublesome process again, let's look at the best practices for keeping your Discord backup codes safe.
Carefully store physical or digital copies of Discord backup codes in multiple secure locations.
Add multiple authentication methods, such as SMS and email, to provide alternate ways to regain access.
Use a 2FA app (Like 2FAS or Aegis) with secure cloud backup features. This will ensure your 2FA codes are not lost in case your phone is damaged or lost.
Remember, prevention is always better than cure. If you take these steps in advance, recovering from a lost 2FA app or Discord backup codes will be much less stressful.
What Are the Risks of Storing Discord Backup Codes Digitally?
Storing backup codes on a digital platform may seem convenient but comes with risks such as hacking or unauthorized access. It's crucial to weigh these risks against the convenience of digital storage.
How Effective is SMS-Based Authentication as a Backup?
SMS-based authentication can be a lifesaver in some situations. However, its reliability should be considered, especially in cases where you may not have immediate access to your registered phone number.
What Are the Best Practices for Managing Multiple Authentication Methods?
Adding multiple authentication methods like SMS and email can enhance account security. Managing these multiple methods effectively can be challenging but is crucial for ensuring that you can always regain access to your account.
Conclusion – Lost Discord Backup Codes!
To sum it up, losing your Discord backup codes or your 2FA app can permanently limit your access to your Discord account. However, by following the solutions mentioned above, you might be able to regain your access.
But if you can't, and none of the solutions work, creating a new account could be your only option. In the future, keep your Discord backup codes stored in a secure place; consider using multiple methods of 2FA for further security, and enable SMS authentication to further safeguard your account.
Remember, Planning is vital to ensuring you won't be permanently locked out of your important Discord account. Discords' 2FA and Discord backup codes are powerful safety measures and handling them carefully can prevent any potential lockouts in the future.