If you are not new to the internet, you must already be familiar with torrents. Torrent is a method of distribution of a file without relying on a single server.
There are lots of websites that offer a database of these torrent files. For beginners, Torrent is totally legal for downloading a file that is legally distributed through a peer-to-peer network.
To access or download these torrent files on your devices, you need to use a torrent downloader client. There are many torrent downloader apps available on the Play Store. To simplify which torrent client is best for your android device, we are putting some of the torrent downloader apps for Android in the battle arena. You can follow this article to find which torrent downloader app for Android is suitable as per your usage.
[Be aware while downloading a file from torrent websites, these files may contain malware or viruses, which can adversely affect your device.]
Best Torrent Downloader Apps for Android:
1- BiglyBT
BiglyBT is an ad-free open source torrent downloader app for Android, which can be used as a remote control for the desktop BiglyBT client. Apart from being open source, this app has a plethora of features baked into it. It supports all basic torrent features alongside swarm merging for faster torrent downloading. Swarm merging helps download torrent files with low or no seeds.
BiglyBT still has a couple of useful features missing, like sharing .torrent files/magnets, viewing, and editing tracks. Luckily, the developer team behind the app is actively taking feature requests to bake into the app in future updates. You can also cast your vote onto a particular feature to increase its chances of getting into the final update.
Pros-
Free and open-source; forever Ad-free.
In-built Dark and Light themes.
Swarm discoveries for faster torrent download.
It can be used as a remote for desktop BiglyBT client on the same network.
Tagging option for better file organization.
Ability to set priority to each file within a torrent.
Available for Android TV as well.
RSS Subscription.
Persistent notification with pause and shutdown option.
Ability to add a torrent via a torrent hash.
Cons-
Complicated UI for a starter.
No scheduler and consequential downloading.
No option to view or edit tackers.
Can't move downloaded torrents within the app.
No option to filter IP address or blacklist WiFi.
Can't share .Torrent files or magnet links of added torrents.
Slow torrent adding from magnet links.
2- Flud
Flud is another popular and feature-packed torrent downloader app. It's simple to use and intuitive. The free version of Flud contains bottom banner ads, which might be a turn off for some. These ads can be removed by purchasing the ad-free from Play Store.
Pros-
Material design and easy to use UI, which is optimized for bigger screens.
In-built Dark and Light themes.
Support for RSS Feeds.
Can change the directory of downloaded files and change download priority.
Extensive power options.
Web search option within the app.
Option to set download/upload limit and battery limit.
Scheduling torrent download and shutdown.
View and edit tracking.
Cons-
Contain bottom ads in UI. [Ad-free version cost $ 1.49 ]
No Android TV Support.
No tags and labeling option to sort torrents.
Can't set the app to start at boot.
No Wifi blacklisting option.
No desktop client is available.
3- TorrDroid
TorrDroid torrent downloader app is for those who for some reason are skeptical about using a torrent website. It lets you search and download the torrent within the app itself. It is as simple as typing your search query and download the suitable torrent from the search list. TorrDroid safeguards against viruses and fake torrents, saving you from the hassle of visiting fishy torrent websites. This app does have full-screen ads in between, which can be removed by an in-app purchase.
Pros-
Clean and easy to use material UI.
Supports sharing Torrent and Magnet files.
Lets you search torrents within the app.
Separate option to disable seeding after downloading the torrent file.
Adult content filter.
Relatively fast torrent adding.
It has a built-in file manager.
Cons-
Fullscreen ads in between.
No tags or labels to sort torrent within the client.
power/battery management options unavailable.
Unable to edit or view trackers.
Can't set TorrDroid to start on boot.
4- Turbo Torrent
Turbo Torrent is another open-source torrent downloader app on this list. It's an ad-free and feature-rich app. It's the only torrent downloader app that focuses on user's privacy. You can check your network details, IP Address, and location within the app. On the downside, we got random crashes on this torrent downloader app and for some reason, it saves hash code as a file name. Why turbo torrent, why?
Pros-
Free and Open source; forever Ad-free.
Simple to use UI using material design.
Supports dark and light themes, with a black theme for AMOLED displays.
Extensive power/battery management features.
Scheduler for auto-start and shutdown of torrent files.
Persistent notification with shutdown and pause/resume function.
Privacy-focused torrent downloader that allows you to check your network details, IP address, and location.
Inbuilt torrent tracker.
Cons-
Generate hash code as filename, which makes it hard to recognize files after downloading.
Random crashes and instability issues.
Download Turbo Droid from here.
5- aDownloader
aDownloader is a feature-packed yet straightforward torrent app, that lets you preview videos without waiting for the download to complete. The KitKat-ish UI might not be for everyone and there is no ad-free version available for those who hate those bottom banner ads. You can also preview media without waiting for the download to complete in this app.
Pros-
Easy to use.
Option to choose between light and dark themes.
Supports video preview of torrents being downloaded.
Supports downloading files from Http(s) links as well, with resume support.
Ability to edit trackers and check peer details.
Extensive power and network control options.
Have a separate layout for the bigger screen; Tablets etc.,
Supports encryption.
Cons-
Bad user interface.
It contains ads at the bottom.
No pro or ad-free version to get rid of ads.
No labeling/sorting option for downloaded torrent files.
Issues with downloading torrent files in the background.
Download aDownloader from here.
Also Read: How to enable Dark Mode in Google Chrome?
6. uTorrent
With over 100 million downloads, uTorrent is one of the most popular torrent apps out in PlayStore. It's a simple and straight forward torrent downloader app, with all the basic features of a torrent app. It serves good as a basic torrent downloader app. uTorrent app has a banner and full-screen ads. You can buy its ad-free version to get rid of ads and enable battery saving and auto-shutdown option.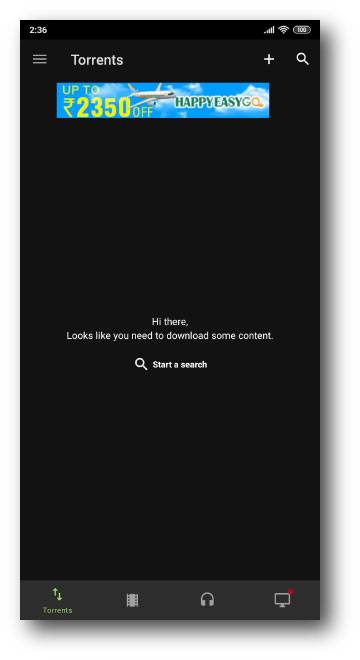 Pros-
Most popular torrent app on PlayStore.
Simple to use interface with a clean and modern UI.
Has desktop client as well.
Can remotely access desktop clients on the same network.
Inbuilt media library to sort music and video files.
RSS subscription.
Cons-
No option to add torrent from local storage.
Has annoying banners and full-screen ads.
Battery saver and the auto-shutdown option is limited to the pro version of the app.
7. tTorrent Lite
tTorrent is one of the most underrated torrent clients for Android. It's feature-packed yet simple to use. It allows users to create and share a torrent file from the device. The only gripe with this app is the ads. You do get an option to buy the pro version of this torrent downloader app to get rid of ads.
Pros-
Clean and modern UI, with support for a dark theme.
Ability to create and share torrent files.
Tracker-less torrent support.
Support encryption.
Supports RSS and the ability to download torrent files published in feeds.
Able to choose which file download before adding torrent.
Persistent notification with the option to pause/resume or shutdown torrent app.
Sequential downloading.
Ability to add labels for sorting torrent files.
Can be controlled from a different Android device via Transdroid.
Cons-
Top Banner and random full-screen ads.
Download tTorrent Lite from here.
Web-based torrent downloaders:
1. Seedr.cc
Seedr.cc is a well-known service that you can use to download or streams links with high speeds. You can also use it to download and stream torrents by converting them into a direct downloadable link, making it a perfect web-based torrent downloader with consistently high speeds. On the downside, with a free plan, you can only store/stream/download files up to 2 GB. [Additional free storage for inviting friends, up to 2GB]
BONUS:
Torrent Hunter –
Torrent Hunter is an app that helps you find torrents directly within the app. If your service provider has blocked torrent websites, then you can use Torrent Hunter to search your favorite torrents from trackers like 1337x, MagnetDL, and Rarbg. This app is a blessing in disguise for frequent torrent users.
Torrent hunter shows a variety of information about your torrent search query and also lets you sort it based on the number of seeders, submission date, and file size. You can download the desired torrent directly from the app via your default BitTorrent client and copy/share the magnet link externally.
Download Torrent Hunter from here.
Best Torrent Downloader Apps for Android: Final words
There are a plethora of torrent downloader apps, each serves the same purpose. BiglyBT and TurboDroid will soothe the open-source lovers, while torrent downloader apps like Flud and tTorrent Lite are for those who want extra out of these torrent apps. Hence, It boils down to the user's choice, based on the additional features these apps provide.
What's your favorite to torrent downloader app for Android? Do let us know via a comment.